Dear visitors! I inform you that now there is a fraud!
Some attackers face-supposedly under my name offer you money to buy a variety of cheats and utilities for the game Survarium!
Be careful and attentive! All my tools – absolutely free! No I do not cheat! About all of its utilities – I report only here. Do not get fooled by fraudsters tricks! Be carefull! Cases of fraud, please inform me, in all possible ways (here in the comments to this entry in the guest book, by e-mail, in the Telegram or Twitter) Thanks in advance!
As you know, almost a month ago (last year) came officially Survarium API for third-party developers, to whom I am. I began to learn it just 3 days ago and is ready to present to you more or less finished project, through which you can watch your overall statistics and statistics of their matches.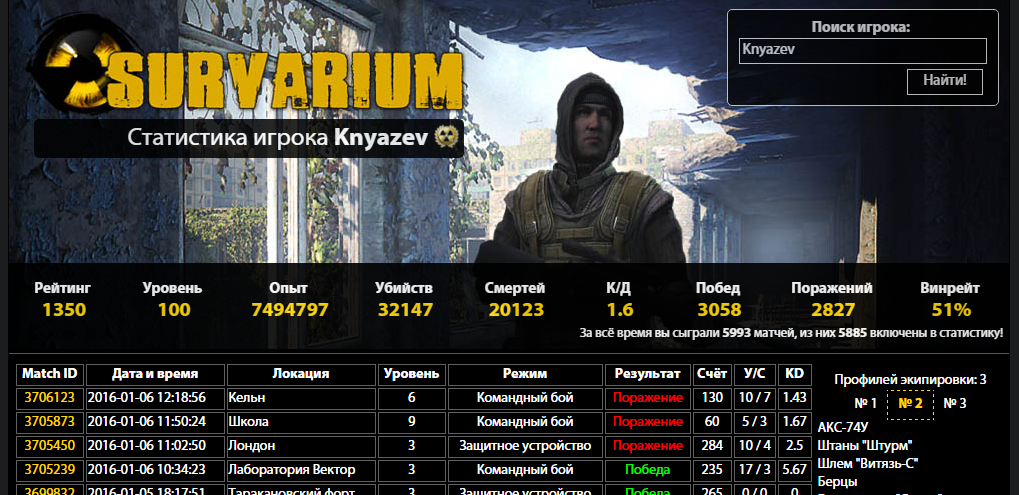 Statistics available at: http://surv.knyazev-tools.ru/stats/
Attention! Now the player nickname case sensitive; you must exactly enter your nickname (with a upper letter for example, etc.) to see your the statistics.
I fixed service by definition of the remaining count of experience points of the player to reach 100 level in the game!
Thanks to Maxim "AnaBioZ" Berezin for the table of experience points.